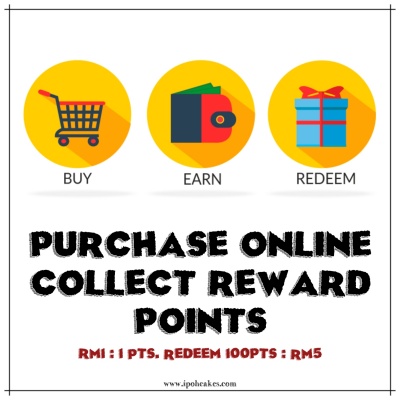 MERCI, TERIMA KASIH, XIE XIE, DHANYAVAAD!
Thank you for supporting us. The Ipoh Cakes Point Reward is one way of how we appreciate our very loyal customers, without you dear customers we won't progress until this far. The program is as simple as what we all already known. Customers need to spent RM1 to earn one (1) IpohCakes Point. Collect up to 100 points to redeem RM5 off for next purchase.
Terms & Conditions
Customer need to purchase minimum RM1 to earn one (1) Ipohcakes point via website only. Cash purchase at physical shop won't allow you to get this point.
Customer need to register account with Ipohcakes.com to eligible for this reward program.
The reward point(s) only eligible for redeem within 60 days of date of purchase. After that, the point(s) will expire.
A minimum of 100 points is required to redeem RM5 off for any purchase. However, RM35 total amount of purchase is required for delivery.
Customer can access Discount coupon at My Account page.
Ipohcakes has the right to cancel any coupons seems not correct without prior notice.
Ipohcakes has the right to cancel the reward program any time, without prior notice.
Please whatsapp or contact us if you have any further inquiries.
You can see picture below how to check your current points value.